Wednesday, June 20, 2012
Don't forget Grandma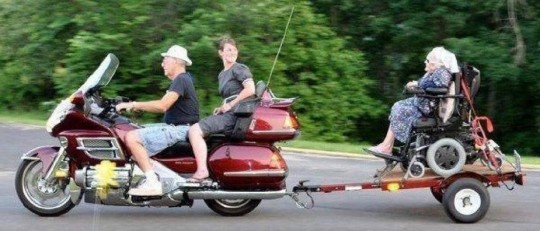 Sunday, June 10, 2012
Flight Crew
While the C-5 was turning over its engines, a female crewman gave the G.I.s on board the usual information regarding seat belts, emergency exits, etc.
Finally, she said, "Now sit back and enjoy your trip while your captain, Judith Campbell, and crew take you safely to Afghanistan."
An old Master Sergeant sitting in the eighth row thought to himself,
"Did I hear her right? Is the captain a woman?"
When the attendant came by he said "Did I understand you right? Is the captain a woman?"
"'Yes," said the attendant, "In fact, this entire crew is female."

My God," he said, "I wish I had two double scotch and sodas. I don't know what to think with only women up there in the cockpit."
"That's another thing, Sergeant," said the crew member, "We No Longer Call It the cockpit; it's the box office."
Sunday, June 03, 2012
The blonde mortician
A man who'd just died was delivered to a local mortuary wearing an expensive, expertly tailored black suit.
The female blonde mortician asks the deceased's wife how she would like the body dressed. She points out that the man does look good in the black suit he is already wearing.
The widow, however, says that she always thought her husband looked his best in blue, and that she wants him in a blue suit. She gives the Blonde mortician a blank check and says, 'I don't care what it costs, but please have my husband in a blue suit for the viewing.'
The woman returns the next day for the wake. To her delight, she finds her husband dressed in a gorgeous blue suit with a subtle chalk stripe; the suit fits him perfectly...
She says to the mortician, 'Whatever this cost, I'm very satisfied.. You did an excellent job and I'm very grateful. How much did you spend?'
To her astonishment, the blonde mortician presents her with the blank check.
'There's no charge,' she says.
'No, really, I must compensate you for the cost of that exquisite blue suit!' she says.
'Honestly, ma'am,' the blonde says, 'it cost nothing. You see, a deceased gentleman of about your husband's size was brought in shortly after you left yesterday, and he was wearing an attractive blue suit. I asked his wife if she minded him going to his grave wearing a black suit instead, and she said it made no difference as long as he looked nice.'
'So I just switched the heads.'